Recombinant human PCT Protein (His Tag)
Cat No.: GMP-h-PCT-Ag01
Cytokine release syndrome (CRS) is an acute systemic inflammatory syndrome characterized by fever and multiple organ dysfunction.

Genemedi produces core diagnostic ingredients for rapid test kit of systemic inflammation and CRS caused by infectious diseases or sepsis-related organ failure.

GeneMedi offers paired antibodies (monoclonal antibody,mab)and antigens of inflammatory syndrome and cytokine release syndrome (CRS) biomarkers PCT(procalcitonin)antigens and paired PCT antibodies(anti-PCT,anti-human PCT or anti-procalcitonin).

All the antibodies and antiges of inflammation and CRS test are suitable for in functional ELISA, and other immunoassays in dignostics. The antibody can act as a capture antibody and detection antibody. Antigens are validated as positive control materials.
Order information
Catalog No.
Package
Price(In USD)
Qty (Quantity)
Sum(In USD)
GMP-h-PCT-Ag01-1mg
1mg
3090
GMP-h-PCT-Ag01-10mg
10mg
21890
GMP-h-PCT-Ag01-100mg
100mg
148000
GMP-h-PCT-Ag01-xmg
≥100mg
Inquiry
Shipping Cost:
760.00
Total:
Description
| | |
| --- | --- |
| Antigen & Antibody Name | Recombinant human PCT ( procalcitonin) Protein (His Tag) |
| Expression platform | Human cells |
| Isotypes | Recombinant Antigen |
| Bioactivity validation | human PCT (Procalcitonin) antibody Binding, Immunogen in Sandwich Elisa, lateral-flow tests, and other immunoassays as control material in PCT (Procalcitonin) level test and inflammation and cytokine release syndrome (CRS) evaluation. |
| Tag | His |
| Products description | Recombinant human procalcitonin (PCT) Protein (His Tag) is produced by Mammalian expression system and the target gene encoding Ala26-Asn141 is expressed with a 6His tag at the C-terminus. |
| Purity | Purity: ≥95% (SDS-PAGE) |
| Application | Immunogen in Elisa,lateral-flow tests, and other immunoassays; Standard substance |
| Formulation | Lyophilized from sterile PBS, PH 7.4 |
| Storage | Store at -20℃ to -80℃ under sterile conditions. Avoid repeated freeze-thaw cycles. |
GeneMedi's PCT (procalcitonin) Antibody Pair Validation In Sandwich ELISA Data Post Download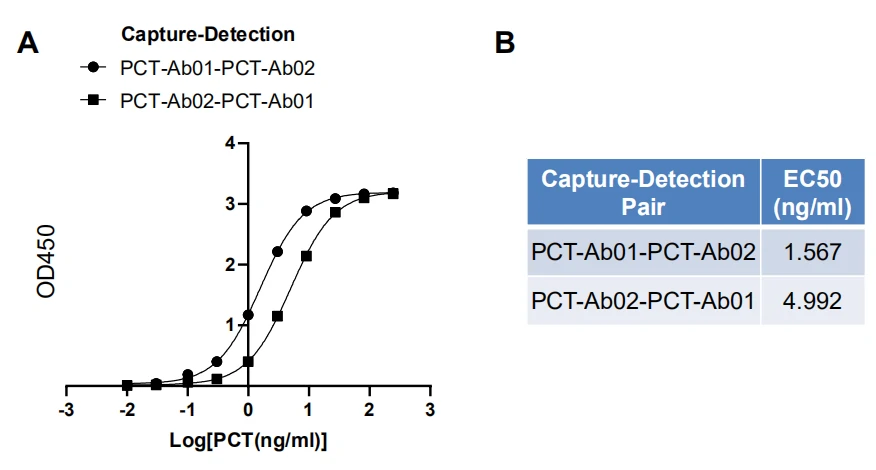 Figure. GeneMedi's PCT antibody pair validation with PCT antigen (PCT-Ag01) in sandwich ELISA.
Diagnostic antibodies and antigens for Inflammation/autoimmune/inflammatory diseases testing-IL-6, PCT, CRP, SAA, IFNγ, AQP4, HBP, MOG, S100-A9, TPO, SAA1, TNFα,α-defensin 5
Inflammation/autoimmune/inflammatory diseases occur when the immune system attacks the normal tissue within joints, vasculature, and other organ systems, causing inflammation, pain, diminished mobility, fatigue, and other non-specific symptoms. The strong overlap of signs and symptoms among the autoimmune diseases can lead to delays in diagnosis and appropriate treatment. However, immunodiagnostics has been developed to detect the inflammation/autoimmune/inflammatory disease such as ankylosing spondylitis, bacterial infections, bacterial meningitis, cerebrovascular diseases, crohn's disease, fungal infection, graves' disease, inflammatory amyloidosis, inflammatory bowel disease, mog antibody disease, osteomyelitis, rheumatoid arthritis, sepsis, respiratory illnesses and so on at an early stage. Biomarkers have been developed to detect this autoimmune disease at an early stage. Detecting the quantity of marker proteins from different samples may benefit from ELISA, Lateral flow immunoassay (LFIA), colloidal gold immunochromatographic assay, Chemiluminescent immunoassay (CLIA), turbidimetric inhibition immuno assay (TINIA), immunonephelometry and POCT.

IL-6 PCT CRP SAA IFNγ AQP4 HBP MOG S100-A9 TPO SAA1 TNFα MPA CCP alpha defensin 5
GENEMEDI

Telephone: +86-21-50478399 Fax: 86-21-50478399
TECHNICAL SUPPORT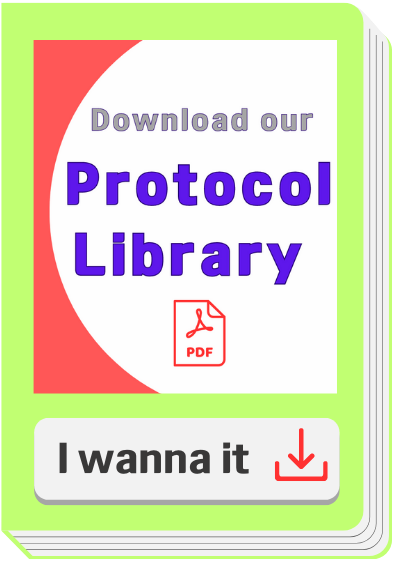 <