2019 nCoV (SARS CoV2 coronavirus) Spike (S1+S2) whole mutation variant of SARS-CoV-2(2019nCoV) 501Y.V2 lineage(B.1.351) pcDNA3.1(+) vector
Cat No.:GMV-V-2019nCoV-111
Order information
Package
Catalog No.
Price(In USD)
Qty (Quantity)
Sum(In USD)
5ug
GMV-V-2019nCoV-111
2390
Shipping Cost:
169.00
Total:
Description
| | |
| --- | --- |
| 2019 nCoV related Gene | Spike (S1+S2) whole mutation variant of SARS-CoV-2(2019nCoV) 501Y.V2 lineage(B.1.351) |
| Species Host | SARS-COV-2 501Y.V2 lineage(B.1.351) |
| Vector | pcDNA3.1(+) |
| Reporter | null |
| Antibiotic in Mammalian cell | Neomycin / G418 |
| Promoter | CMV |
| Tag | No tag |
| Codon Optimized | Codon Optimized for mamamlian |
| Gene Accession Number | QHD43416.1 |
| Application | Mammalian cells expression |
Spike mutant variant of SARS-COV-2 (2019nCOV) 501Y.V2 lineage(B.1.351) spread in South Africa
The world is in midst of the COVID-19 pandemic. Recently a new SARS-CoV-2 (2019nCOV)lineage (501Y.V2), characterised by eight lineage-defining mutations in the spike protein (excluding D614G mutation), including three at important residues in the receptor-binding domain (K417N, E484K and N501Y), represents increased transmissibility. This lineage emerged in South Africa and spread rapidly, becoming within weeks the dominant lineage in the Eastern Cape and Western Cape Provinces of South Africa.
Mutations of Spike protein in SARS-COV-2 (2019nCOV) 501Y.V2 lineage(B.1.351) spread in South Africa
Three of the spike mutations are at key residues in the RBD (N501Y, E484K and K417N), three are in the N-terminal domain (L18F, D80A and D215G) and one is in loop 2 (A701V). Deletion of three amino acids at L242-244L is disputed with a L242H mutation
1
.
Spike Mutation in SARS-COV-2
(2019nCOV) 501Y.V2 lineage(B.1.351)
Spike-S1 Subunit
N Terminal
L18F
D8OA
D215G
Spike-S1 Subunit
L242-244 deletion
disputed with a L242H mutation
Spike-S1 Subunit
R246I
Spike-RBD
K417N
Important residues mutation
E484K
N501Y
Spike-S1 Subunit
D614G
A popular mutation in different new SARS-CoV-2 lineage
Spike-S2 Subunit
A701V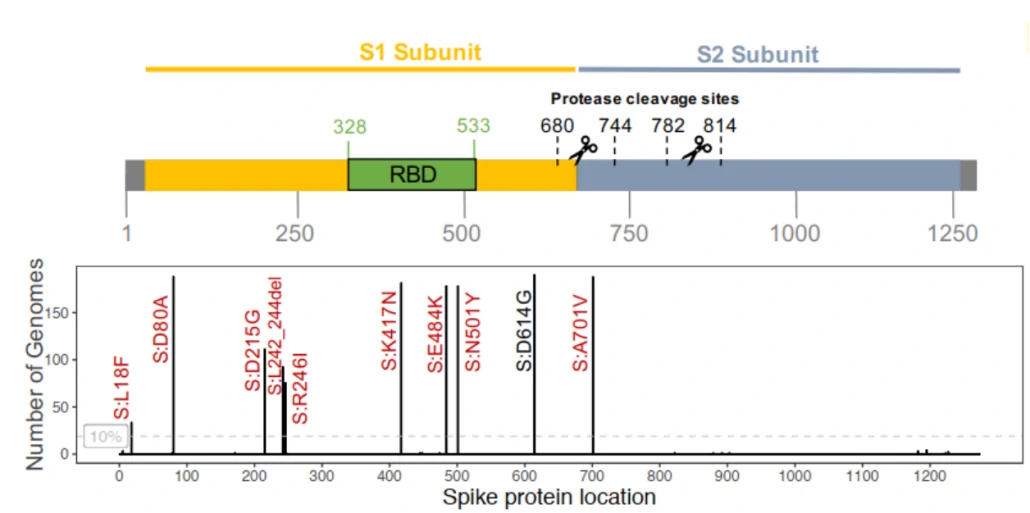 Figure. Amino acid changes in the spike region of the 190 S501Y.V2 genomes1
GeneMedi codon-optimized spike mammalian expression vector for SARS-COV-2 (2019nCOV) S501Y.V2 lineage(B.1.351)
GeneMedi pseudotype virus (pseudovirus) of SARS-COV-2 (2019nCOV) 501Y.V2 lineage(B.1.351)
Reference
1 Houriiyah Tegally, E. W., Marta Giovanetti, Arash Iranzadeh, Vagner Fonseca, Jennifer Giandhari, Deelan Doolabh, Sureshnee Pillay, Emmanuel James San, Nokukhanya Msomi, Koleka Mlisana, Anne von Gottberg, Sibongile Walaza, Mushal Allam, Arshad Ismail, Thabo Mohale, Allison J Glass, Susan Engelbrecht, Gert Van Zyl, Wolfgang Preiser, Francesco Petruccione, Alex Sigal, Diana Hardie, Gert Marais, Marvin Hsiao, Stephen Korsman, Mary-Ann Davies, Lynn Tyers, Innocent Mudau, Denis York, Caroline Maslo, Dominique Goedhals, Shareef Abrahams, Oluwakemi Laguda-Akingba, Arghavan Alisoltani-Dehkordi, Adam Godzik, Constantinos Kurt Wibmer, Bryan Trevor Sewell, José Lourenço, Luiz Carlos Junior Alcantara, Sergei L Kosakovsky Pond, Steven Weaver, Darren Martin, Richard J Lessells, Jinal N Bhiman, Carolyn Williamson, View ORCID ProfileTulio de Oliveira. Emergence and rapid spread of a new severe acute respiratory syndrome-related coronavirus 2 (SARS-CoV-2) lineage with multiple spike mutations in South Africa. medRxiv preprint, doi:https://doi.org/10.1101/2020.12.21.20248640 (2020).
GENEMEDI

Telephone: +86-21-50478399 Fax: 86-21-50478399
TECHNICAL SUPPORT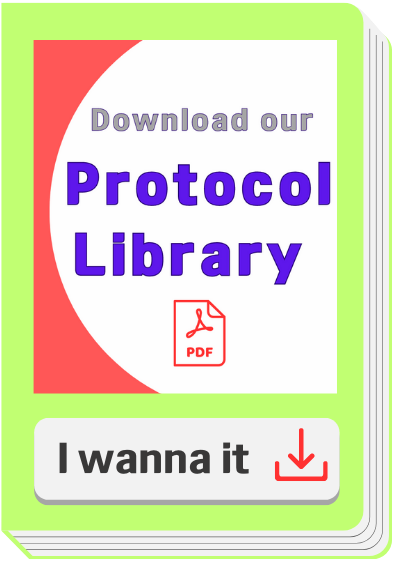 <