Internal Gene Editing Field Analysis
CRISPR/Cas9 premade products
Custom made CRISPR/Cas9 service
CRISPR/Cas9 User Manual
CRISPR
Editas Medicines
Intellia Therapeutics
CRISPR Therapeutics
AstraZeneca
Beam Therapeutics
Casebia Therapeutics
Exonics Therapeutics
Mammoth Biosciences
Sherlock Biosciences
ARCUS
Precision Biosciences
ZFN
Sangamo Therapeutics
Voyager Therapeutics
Poseida Therapeutics
Orchard Therapeutics
uniQure
Competitors/Adjacen
Illumina
Illumina develops, manufactures and markets integrated systems for the analysis of genetic variation and biological function.
Website: https://www.illumina.com/
Location: San Diego, California
Employees: 7,300
Market Cap: Here
Annual Revenue: $3.4B
Acquisition History (PacificBio acquired for $1.2B in November 2018)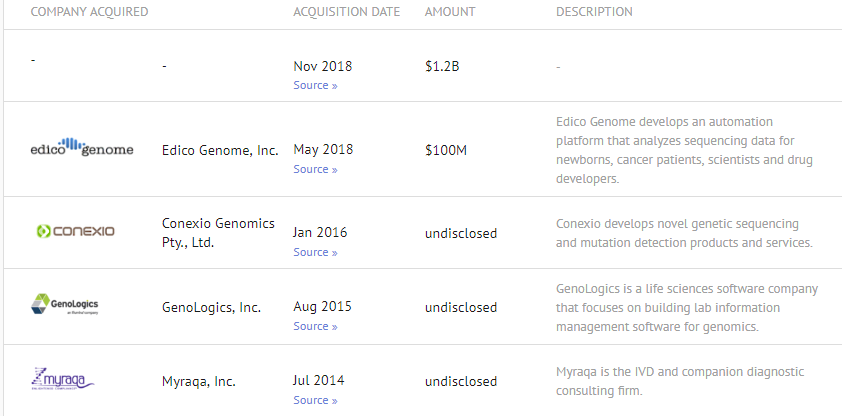 MetaSystems
MetaSystems is a private company that develops and manufactures systems for automated microscope based imaging.
Website: https://metasystems-international.com/us/about/
Location: Germany and Newton, Massachusetts.
Estimated Employees: 132
Estimated Annual Revenue: $40M
Partnerships
Coplan: Established in May 2014, Coplan (Italy), a manufacturer of the automated microbiology specimen processor WaspLAB™, and MetaSystems announced that they have signed a global and exclusive agreement for the integration of the automatic microscopy slide scanning system Metafer with WASPLab™.
News
April 2019: MetaSystems presents machine learning implementation on scanning platform metafer for pre-classification of gram stain slides. More information can be found here.
January 2019: MetaSystems opens in an office in Buenos Aires, Argentina. The foundation is in response to the growing demand for technical knowledge in Latin America.
Cytocell
Cytocell, a private company, is a manufacturer of fluorescence in situ hybridizationy bridisation (FISH) probes that provides DNA screening solutions.
Website: https://www.cytocell.com/
Location: Cambridge, England
Employees: 88
Estimated Annual Revenue: $17.8M
News
February 2019: New Cytocell facility opens in Cambridge, UK.
2014: Acquired by Oxford Gene Technology (OGT).
Synthego
Synthego, a private company, is a provider of genome engineering solutions for CRISPR editing and research.
Website: https://www.synthego.com/
Location: Redwood City, California
Employees: 90
Estimated Annual Revenue: $13M
Funding History: Raised $8.3M in Series A in 2016, raised $41M in Series B in 2017, and raised $110M in Series C in 2018.
Partnerships
Thermo Fisher: In 2017, Synthego announced a new alignment with Thermo Fisher Scientific to manufacture and distribute synthetic guide RNA products. Synthego's synthetic guide RNA portfolio and synthetic guide RNA manufacturing capabilities will be utilized to produce synthetic guide RNAs under Thermo Fisher's Invitrogen TrueGuide brand that will be marketed and sold across Thermo Fisher channels worldwide.
News
June 2019: Synthego introduces the next generation of CRISPR knockout technology with the gene knockout Kit v2.
March 2018: Synthego Appoints Dr. Jennifer Doudna to advisory board to accelerate company's genome engineering mission. Doudna to advise Synthego as the company develops technology and services to further the adoption of CRISPR, bringing access, precision and automation to genome engineering.
January 2018: Synthego announces the launch of ICE (Inference CRISPR Edits), a new tool named. ICE software offers rapid, reproducible analysis of Sanger data, which costs a hundred times less than next-gen sequencing (NGS). ICE is free to use and open source, and the only CRISPR analysis software featuring batch processing of Sanger data.
Horizon Discovery
Horizon Discovery provides cell panel screening, data analysis, model generation, apoptosis assays and custom breeding solutions for drug manufacturers.
Website: https://www.horizondiscovery.com/
Location: Cambridge, England
Employees: 500
Estimated Annual Revenue: $52.5M
Funding History: Total of $57.1M raised over seven rounds.
Licenses & Partnerships
List of partnerships shown here.
May 2017: Pre-existing non-exclusive, worldwide license agreement with ERS Genomics Ltd. to significantly expand Horizon's license coverage for the use of the CRISPR gene editing technology. This will enable Horizon to use CRISPR in multiple new areas across its products and services.
Thermo Fisher Scientific
Thermo Fisher is a life science research institution focused on providing laboratory equipment, chemicals, supplies and services.
Website: https://www.thermofisher.com/us/en/home.html
Location: Waltham, Massachusetts
Employees: 70k
Market Cap: Here
Annual Revenue: $24.6B
Pipeline: Information regarding Thermo's gene editing products are here. product offerings, drug development, drug discovery, and service offerings are shown here.
Bionano Genomics
BioNano Genomics develops and markets genome mapping platform that enables researchers to identify and analyze structural variants in chromosomes.
Website: https://bionanogenomics.com/
Location: San Diego, California
Employees: 77
Market Cap: Here
Annual Revenue: $12.1M
Funding History: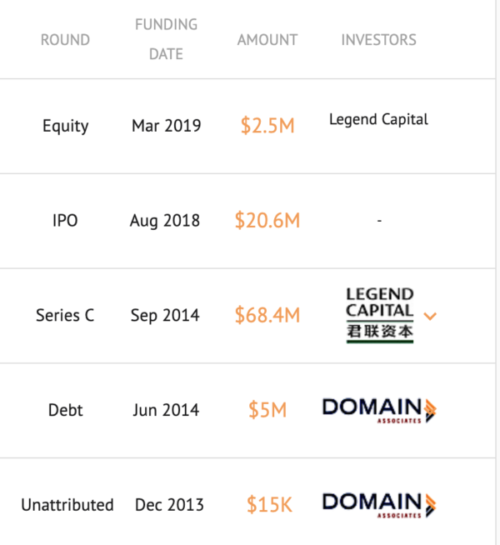 February 2019: Bionano genomics' Saphyr® system used for highly accurate detection of the genetic disorder FSHD as an alternative to southern blot.
Mission Bio
Mission Bio provides tools for the study of cellular heterogeneity in human health and life science research.
Website: https://missionbio.com/
Location: San Francisco, California
Employees: 75
Annual Revenue: $5M
Funding History: $10M Series A in 2017 and $30M Series B in 2018.
News:
May 2019: Published study using single-cell genomics to reveal clonal diversity underlying leukemia therapy resistance.
March 2019: Mission Bio launches Tapestri Designer, the first automated cloud tool for targeted single-cell DNA custom panels.